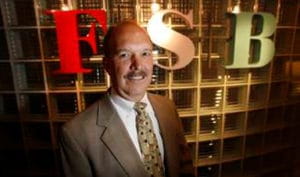 Once Rick Johnson figured out he wanted to be an architect, various bents and events over his lifetime all added up. His father liked to tell a story of how Johnson, as a boy, would take things apart and put them back together. Johnson once did that with a toy of his sister's, which his father couldn't reassemble, but Johnson could. And then there were the times when he was a teenager living in Maryland and extended family would fly into Washington, D.C., for visits. Johnson always would volunteer to pick them up. Dulles International Airport was brand new, and he fell on every opportunity to check out the building. Ultimately, Johnson, who's a principal with Frankfurt-Short-Bruza Associates, fortuitously found his career path as a sophomore at the University of Oklahoma.
From his fifth-floor offices at 5801 Broadway Extension, Johnson, 59, sat down with The Oklahoman on Tuesday to talk about his life and career. This is an edited transcript:
Q: Tell us about your roots.
A: My parents met at dental school at Temple University in Philadelphia. My father joined the U.S. Navy during the Korean War and served 20 years as a dentist. My mother worked as a dental hygienist until she had children; I'm the oldest of four, born over five and half years. I have a sister in Tulsa, a brother who's a geologist with Sandridge Energy, and another outside Salt Lake City, where he works as a pilot for Delta Airlines.
Q: So you were a Navy brat and lived all over. How was that?
A: Mainly, we lived on the East and West Coasts. I loved experiencing a lot of different things. Because we moved every two to three years, I learned to be more outgoing and social than I'm sure I'd be otherwise. But I envied my friends who had roots.
Q: What do you remember of your various hometowns during your childhood?
A: When I was in the sixth grade, in 1966, we lived in Alameda, Calif. I don't remember much about the counter-culture revolution, but I do remember the climate was great. When I was in the seventh and eighth grade, we lived in Naples, Italy, in an apartment up on a ridge on the bay, with a beautiful view of the active volcano Mount Vesuvius.
We'd take city buses down to the USO where the sailors shot pool, and there was a great hole-in-the-wall pizzeria across the street. I attended one of three American schools in Italy. From '70 to '73, we lived in Rockville, Md., where I played offensive and defensive line on the football team, rode my bike everywhere and fished off Virginia Beach.
Q: How did you settle in Oklahoma?
A: My father, who died of cancer this past August, had a second career as a dental professor at OU. After all that moving around, my mother has lived in the same house in Edmond since 1974. Oklahoma is home to me. I attended a small school in Maryland my freshman year in college, but transferred to OU my sophomore year.
Q: How did you decide upon a career in architecture?
A: My first semester at OU, my roommate was a construction science major in the architecture college. By the end of that semester, I was helping him with all his projects. It was like a light went off, and I realized I wanted to be an architect.
Q: What was your first professional job?
A: After graduation, I worked 10 years with Miles Associates, which then was a firm of about 10 and specialized in the building and remodeling of research labs on the health sciences center campus. But I always wanted to work with a large firm, and FSB is where I wanted to be.
I started as a project manager, and made partner in 2005. I'm one of five principals in the third generation of the firm's ownership. We employ 120, and our firm is unique in that it has its own engineering department.
Q: What are some of FSB's noteworthy projects, built recently or in design?
A: The OSU alumni center, the Capitol dome, the Myriad Gardens renovation, the Edmond Safety Center, the renovation of Central High School for the OCU Law School and the Maps 3 exhibit hall at the Oklahoma State Fair Park. Some 45 percent of our projects are outside Oklahoma. Because of our expertise in aviation and strong customer satisfaction levels, we successfully compete with firms nationwide that are as much as 50 times bigger. We've got ongoing projects in San Diego and Rhode Island, and four in Connecticut for the National Guard.
Q: Your focus is marketing and client management in the federal market, including aviation and the federal defense department. Tell us about that.
A: FSB has a long history in the aviation business, starting with American Airlines in the '50s. For United Airlines, we built eight hangars and supporting shops in Indianapolis, after the city in '91 won the bid over Oklahoma City for a new maintenance complex. The construction value of that project alone was $530 million.
Our aviation projects grew significantly throughout the '90s. We've built hangars nationwide, including in Alaska and Hawaii. At our own Will Rogers World Airport, we designed a baggage handling project currently under construction, and we're currently designing an emergency generator terminal.