How School Planning can Benefit When Advisory Boards, Research Universities and Government Funding Agencies Together Discuss Points-of-View
Balancing Sustainability, Clean Air, Healthy Learning Interiors and Structural Safety when Designing and Building Schools
• Determine impact on student performance.
• Determine how healthy school strategies affect one another.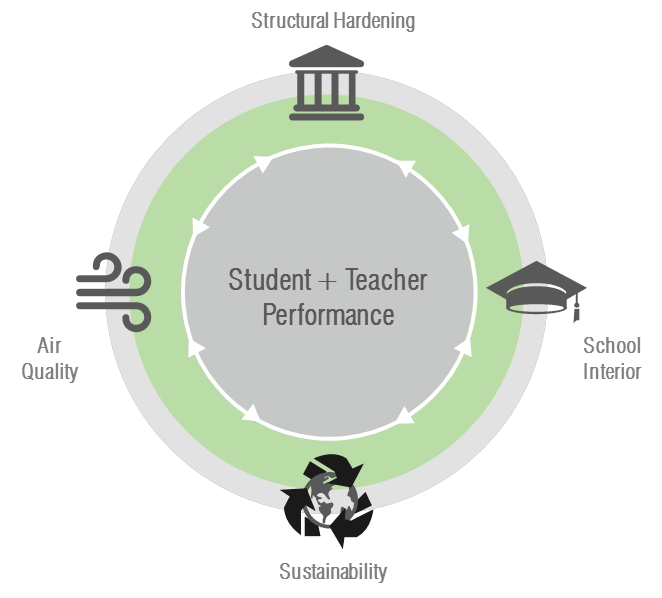 Learning Objective 1
Learn the processes involved to create research relationships between government research funding agencies, research universities, investigators and planners familiar with the design and construction of schools.
Learning Objective 2
Learn the benefits that are available to school district officials and school boards who seek to make building design decisions for new schools or school renovations.
Learning Objective 3
Learn why parents, teachers, students and school district officials have ongoing discussions about healthy and highly performing schools and what they want them to be as a viable part of their communities
Learning Objective 4
Learn how to gain a stronger definition of the trade-off concerning sustainability and environmental quality for students.
State of the Grant
Building Features List
Building Features – Case Studies: Lighting, Acoustics, Thermal Comfort, Interior Design, Aesthetics, and School Campus
Community Advisory Board
PRESENTED AT CEFPI 2015 CONFERENCE BY: FSB Education Design Studio, University of Oklahoma / College of Architecture, Edmond Public Schools, RTA Architects
Fred Schmidt, FAIA, LEED AP, Frankfurt Short Bruza Associates, P.C
Christina J. Hoehn, M.ED, Assoc. AIA, RID, Edmond Public Schools
Doug Abernethy, AIA, RTA Architects
Lisa Holliday, Ph.D. PE, University of Oklahoma
Hepi Wachter, M.arch, Dipl.Ing, LEED AP, Green AP, CAPS, NCIDQ, University of Oklahoma
For additional information on the research program: http://okchs.csa.ou.edu