Structural Designer Isabella Horton welcomes new challenges, and this trait continues to serve her well in her development as one of FSB's experts at bridge design. Originally from Venezuela, Isabella came to FSB as an intern and over the past several years her skills have made her a highly valued member of the company's structural engineering team.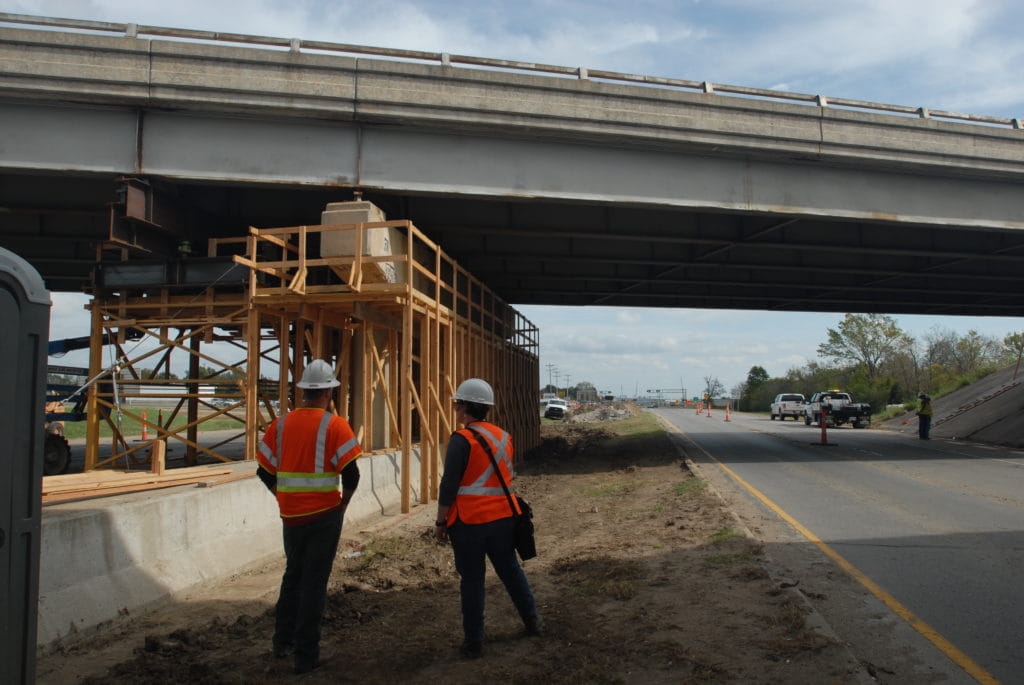 Bridge design is the latest challenge that Isabella has embraced, and she is a crucial member of the FSB team spearheading design repairs and replacements to a number of bridges across Oklahoma.
"It's something new to me and something that I've come to enjoy very much," Isabella says. "Most of the bridges in Oklahoma are obsolete, and they often have problems with the location or angle that make it difficult to bring them up to modern standards. Each one is its own individual puzzle, and that requires a lot of creativity when you're looking for solutions."
There is a special satisfaction for Isabella in knowing that her work will make life safer and travel easier for her fellow Oklahomans. "I like that these types of projects are local," she says. "I can see them, drive across them and think 'I fixed that!' As an engineer, that is my main focus – the welfare of people."
Oklahoma Department of Transportation – Bridge Repairs
Q. FSB is using an unusual method to repair two bridges located along U.S. Highway 64 in Muskogee County, Oklahoma. Why were these bridges a chronic problem for the state, and what is being done to repair them?
A. Like a lot of bridges in Oklahoma, both of these are so old that they are in a general state of disrepair, and it's a challenge to bring them up to modern safety standards. One of the bridges also has a low clearance, so trucks were always hitting it and causing damage. Our team went out and assessed the bridges, and we recommended improvements including substructure repair, bearing replacements, deck replacement and an approach upgrade for the interchanges, among others. What is a bit more unusual is that we also provided plans to raise the beams significantly to make the substructure repairs and protect the bridges going forward. This was a new approach for the Oklahoma Department of Transportation team that we are working with, and they appreciated our taking the lead on this project.
Q. How were these repairs effected?
A. We were able to use a hydraulic pump to jack up the bridges underneath each beam, in order to replace the bearings without disturbing the existing foundation. Our engineering team created a specialized bearing design with an attachment assembly that met ODOT's very stringent specifications and allowed us to raise the bridges as high as needed, which in this case we knew would be 6 ½ inches for one and 8 inches for the other. Our target was to guarantee that both bridges had at least 16 feet of clearance. At ODOT's request, we also continue to provide construction administration oversight during the actual repair process.
Q. How do you determine which bridges can be rehabilitated versus those that have to be rebuilt?
A. Again, it depends upon the bridge's age, the amount of damage it has already sustained, and the potential for further damage, as well as criteria that our clients already have in place. Most of the bridges in Oklahoma are obsolete, and we have to become creative to bring them up to modern standards within the limitations of their location and funds available for repairs. We have a full team of structural engineers, including two Ph.D.-level experts in concrete and seismology, who perform these assessments on a routine basis. The majority of our projects have been completed for the Oklahoma Department of Transportation, and we have established a very positive working relationship with them