This Rebuilding Together project brought together the entire community and FSB is honored to have had a hand in helping.
What started as a roof replacement project for a local veteran turned into an entire home renovation once Rebuilding Together determined that the home's structure could not hold the weight of a brand-new roof. From that point, the Rebuilding Together team started getting their local volunteers and vendors involved. Almost all the construction materials, flooring, cabinets, HVAC, furniture and finishes have been donated along with more than 1,200 hours of volunteer labor.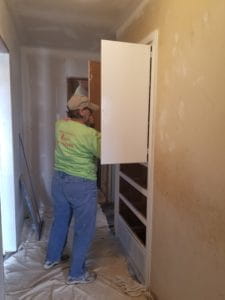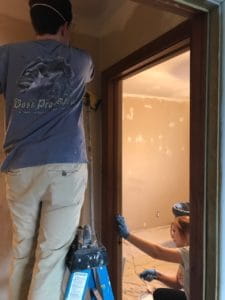 FSB is proud of our employees who donated their time and talents to this project. Led by FSB's Darren Scheller, our team of volunteers has been hard at work for weeks.
Said Scheller, "I knew FSB could gather some volunteers and step in to help.  I put the word out to our company and several staff members agreed to assist.  This project consisted of more than what is usually required, but in typical FSB fashion we grabbed our tools and got after it. We joined forces with several other volunteers and have turned an unfortunate situation into a very positive one for this homeowner."
From putting up drywall to sanding joints, priming and painting, these volunteers gave up their nights and weekends to help make sure this home and property are ready for the owner to move back in this weekend. In addition to our team's volunteer efforts, FSB's Korey Wheeler, a member of the Central Oklahoma Chapter of ASHRAE (American Society of Heating, Refrigerating and Air-Conditioning Engineers), was able to enlist the professional organization to host a community event that found a donor for an entirely new HVAC unit.
This project has been a very special one for our team and we are thankful for all the work Rebuilding Together does for the community. If you'd like to help, this home still needs some household goods and small appliances. The Rebuilding Together team has put together an Amazon Wish List that can be viewed here http://a.co/3KVZsHJ