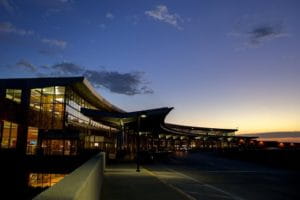 Cities seldom have a second chance to make a good first impression.
So the $89.8 million terminal expansion project set to begin construction at Will Rogers World Airport is geared to a top-flight visitors' experience.
From interior finishes and furnishings, to security transitions, to an observation deck mindful of pre-9/11 air travel, the design is grounded in attention to detail.
"This is part of the special sauce for Oklahoma City," said architect Rick Johnson, chief operations officer with design firm FSB.
"The appearance of the airport is the first thing people see when they are coming to the new convention center or a Thunder game," he said. "It does have an impact."
Construction of the primary component of the project, a new east concourse with four gates, is to begin in early 2019. It should open to the public in early 2021.
Delta Air Lines passengers will be using the new concourse, waiting areas and gates.
The expanded terminal will be "as functional, effective, safe and user-friendly as possible," said Ward 3 Councilman Larry McAtee, chairman of the Airport Trust.
The airport is building for the future with ability to extend the new concourse farther east, McAtee said. "This is a design that facilitates growth."
Work began with removal of a storage building and relocation of utilities. Associated work includes paving the terminal apron and installing flight information screens.
So what can travelers expect?
Early in the project, baggage Claim 1, on the east end of the lower level, will be closed to facilitate some excavation and strengthening of columns.
Claim 1 operations will shift to other baggage carousels for the duration of that work, said Karen Carney, the airport's spokeswoman.
A secured "divert and hold" included in the new design will accommodate passengers from flights, including international flights, that have to be diverted to Will Rogers.
Carney said a baggage claim could be added to that space in the future.
Wood and stone finishes in the new concourse are "complementary of the existing architecture," Johnson said. "You see the palette of materials continuing through."
He said the terrazzo floor's color will match existing tile "but get rid of all the grout lines."
Ample power outlets for smartphones are intended to serve busy travelers.
Clear directions are intended to get them where they are going with less fuss.
"The traveling public will be able to see where they're going a little better than they have in the past," Johnson said.
Security checkpoints will be consolidated.
The new single checkpoint is designed to accommodate growth, in a high-ceiling space with room for advances in security screening technology.
Johnson said federal air travel security officials were "very interested in a consolidated checkpoint due to the cost of manning two checkpoints."
"That was big driver in the design," he said. "Making it as flexible as possible was also a key point."
The terminal expansion is being financed with 30-year fixed-rate bonds, to be retired with airport revenues and passenger facility fees.
Five of six construction bids on the concourse extension came in under the architects' $65.3 million estimate when they were opened last week.
Upstairs, the observation deck will provide visitors with views of airfield operations.
They will be able to look down on the concourse, to see family and friends who have cleared security.
McAtee said it would be a close approximation to the years before the Sept. 11, 2001, terrorist attacks that prompted today's strict airport security measures.
Before 9/11, family and friends could accompany passengers to their departure gates.
"I used to enjoy that as a child," McAtee said. "I think children today also would enjoy it."
---
To learn more about the Will Rogers World Airport Terminal Expansion or other FSB projects, contact COO Rick Johnson at fsbcoo@fsb-ae.com.