FSB – Frankfurt Short Bruza Company
General Contractor: None
Architect: FSB
Flooring Features: Shaw Carpet Tiles: Archomatic Tile 18 x36, Black;
Color Form Tile 9" x 36", Mystic Grey, Disappear, Charming, Inspire, Frolic, Puzzle, Blaze and Auroa.
Pinnacle cove base 4", Charcoal.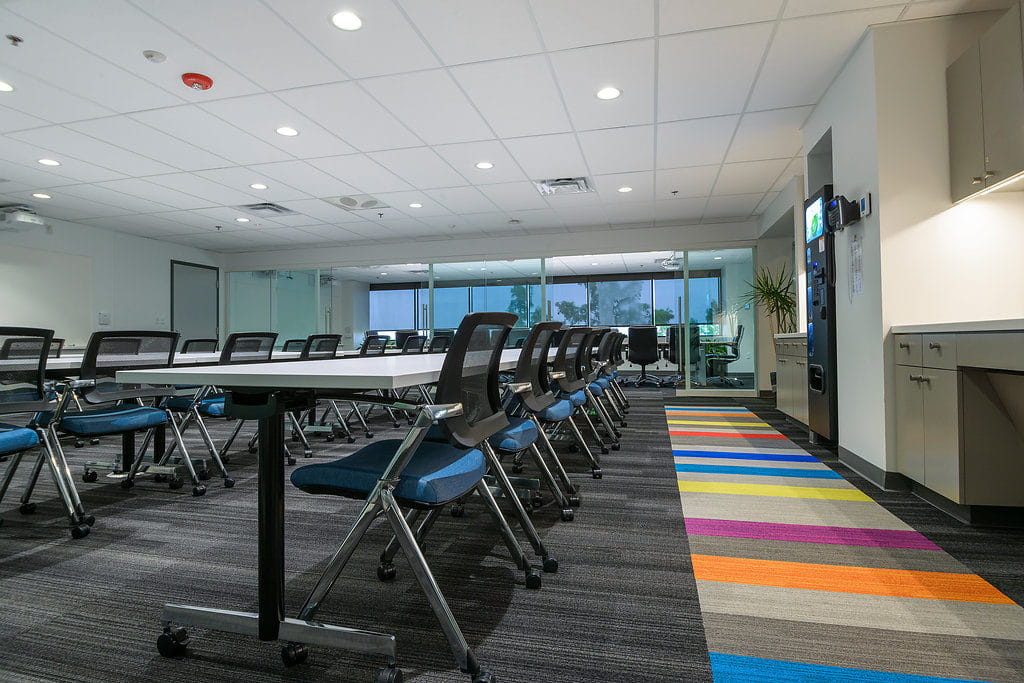 FSB is a nationally recognized architectural, engineering and planning firm whose mission is to provide thoughtful and creative solutions that result in quality projects for their clients. One of the factors contributing to their success is their commitment to also provide a thoughtful, inspirational and collaborative space for their staff to create such solutions.
Bentley Flooring was fortunate to get an inside view of their energizing environment when installing the new flooring for FSB's recent "refresh" of their Oklahoma City office on the 4th and 5th floors of the Paragon Building. Several large, high-tech conference rooms provide for the interchange of ideas, as well as open work spaces wrapped in continuous windows, letting in an abundance of light and allowing limitless space for imagining.
With this renovation, FSB's ability to collaborate is further strengthened by the addition of stand-up meeting stations and smaller traditional meeting rooms scattered throughout both floors. Each of these rooms and stations offers computer screens and all other wired technology needed for technical discussions, quick consultations or lengthier presentations. Throughout both floors, wall panels were lowered, some offices eliminated and employees within each discipline were gathered into their own distinct areas for easier communication.
We were also impressed by FSB's serene palate of grays, blacks and charcoal inset with bold, bright bands of colors interspersed throughout the carpeted workspace. Accent colors from these bands were applied to walls and columns in the open areas.
In addition to the pleasing aesthetics, expanded café areas were installed on both floors, replacing small break areas which would only accommodate a few people. Each café features bistro-type seating, a large-screen TV, vending machines, multiple microwaves and oversized refrigerators, to accommodate the increased number of workers. These areas have become a popular place for staff to gather and for employees from different disciplines to get acquainted and build camaraderie.
Even the 4th floor restrooms were updated and refreshed.
The renovation will potentially benefit more than FSB employees. Two large conference areas were added to the fifth floor, with the capacity to hold about 40 people and 25 people respectively. These rooms are used not only for company training and client meetings, but they also are available for organizations affiliated with FSB or its employees.
Thank you, FSB, for the opportunity for Bentley Flooring to provide our services to one of our valued architectural partners.
Photographer: Robert Trawick