Construction has been completed on American Airlines' new $9.8 million, 81,400-square-foot, widebody aircraft hangar at Tulsa International Airport.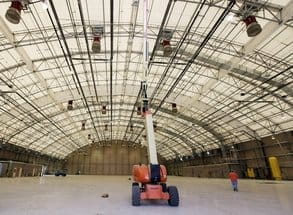 During the next few weeks, American Airlines workers will be moving equipment and tooling into the facility while contractors finish interior offices, break rooms and bathrooms. Mechanics are expected to begin maintaining, repairing and overhauling airplanes in the fabric-covered hangar in November, American executives said.
"We're going to have two (Boeing) 757 MAUI lines in the new hangar by the end of the year," said Carmine Romano, American's senior vice president of maintenance and engineering.
"It gives us two bays for widebodies that we would not otherwise be able to do in Tulsa and (facilities for) close to 200 people, including production supervisors."
American's MAUI — Mid-life Avionics Upgrade Initiative — on its 124-aircraft 757 fleet should occupy the new hangar through 2011, Romano said. American mechanics in the MAUI program are overhauling the 757's computers, flight control systems, cockpit liquid crystal display monitors and flight recorders to increase system capacity and capabilities. Hangar No. 80, as American's new facility has been named by the Tulsa Airport Authority, is 370 feet long, 220 feet wide, with a ceiling height of 70 feet. Its door opening is 190 feet wide by 66 feet high.
The hangar is the first constructed in the airport's North Development Area, which is connected to American's main facilities by a series of taxiways. The hangar is a clear-span structure with no interior supporting columns, allowing efficient use of space. Its white translucent roof sheds much of the heat of the sun but admits so much light on sunny days that electrical lighting won't be needed in many areas.
Manufactured by Rubb Inc., Sanford, Maine, a U.S. subsidiary of the Rubb Group of Bergen, Norway, the building is constructed of a galvanized steel frame. The frame is covered by a woven polyester fabric coated with polyvinyl chloride, which imparts strength and waterproofing to the fabric. From a distance, Hangar 80 appears to be constructed of sandstone-colored adobe. Up close, the walls of the hangar look like stiff, rugged burlap.
"The Rubb hangar is typically 40 percent less expensive to build than a conventional pre-engineered steel, aluminum, wood or fiberglass hangar", said Gordon Collins, director of marketing for Rubb Inc.
"The (steel) structure will last 40 to 50 years with little or no maintenance," Collins said. "The (polyester fabric) membrane is expected to last 20 to 25 years with no maintenance, either. At the end of the life of the membrane, you simply replace it. The cost of replacing the membrane is 20 percent of the purchase price of the original building installed."
Another feature of Hangar 80 is it is relocatable. The steel framing and fabric membrane were transported from Maine to Tulsa on flatbed trucks. "There will be significant (cost) savings with our building," Collins said.
Coming up with the cash
Conserving cash and reducing costs have been a mantra at American Airlines since its near-bankruptcy in 2003. But by 2006, American executives could see the company's aircraft maintenance organization was headed for a wall. At American's 3.3-million-square-foot Tulsa Maintenance & Engineering Center as well as maintenance bases in Fort Worth and Kansas City, hangar space was disappearing faster than airline meals.
Besides maintaining its own fleet, American had begun to solicit third-party aircraft maintenance, further constraining its hangar capabilities, particularly for widebody jets.
"We needed another widebody facility," Romano said.
It was a stark choice: build a widebody hangar in Tulsa, or risk losing the work and jobs to another city, said leaders at American and Transport Workers Union Local 514. But with the airline industry still in a post-9/11 financial dive, American couldn't afford to invest in buildings it couldn't own. All of the facilities at the M&E Center are owned by the City of Tulsa and leased to AMR Corp., American's parent.
"We went to the city and asked for help for our widebody fleet," said Kevin Crosser, an American mechanic and an executive board officer at Local 514. "The city stepped up. The voters and the community wanted to make sure American Airlines stayed in Tulsa and that the jobs stayed in the community."
With the passage of the third-penny sales tax extension in May 2006, Tulsa voters approved $463.4 million for capital improvements, including $4.3 million in infrastructure at Tulsa International Airport. A year later, Gov. Brad Henry tapped the state's Opportunity Fund, an economic development account, for $10 million to help preserve aerospace jobs in Tulsa. Mayor Kathy Taylor paired $4.3 million from the third-penny sales tax with $5.7 million from the Opportunity Fund to build American a new widebody hangar.
"This is the next step in further solidifying Tulsa's leadership in the aerospace industry," Taylor said in announcing the city-state funding partnership in May 2007.
"Our investment in jobs and our investment in education will ensure a bright future for Tulsa."
The remaining $4.3 million from the state Opportunity Fund was spent to remediate Building 119, which had been contaminated with hazardous chemicals, for Spirit AeroSystems Inc. The cleanup at Building 119 has given Spirit additional space and created more jobs in its government and commercial aircraft component manufacturing programs, company executives said. American and city officials were aware $10 million wouldn't go far in constructing conventional aircraft hangars. And American's 330 acres at Tulsa International didn't have room for a widebody hangar. But to the west, beyond the airport's 10,000-foot north-south runway, was a couple hundred acres of bare land in the North Development Area connected to the M&E Center by taxiways.
In conversations with city and state officials, Romano praised the three-sided fabric hangar built by Rubb Inc. at the M&E base a decade ago.
"The same company built a hangar on the west side that we use for engine changes," Romano said. "It's worked out well for us."
Early reviews by American executives are that the new hangar will be as efficient and cost-effective as the first Rubb hangar.
"We have two years of chock-to-block-full facilities for aircraft maintenance and modifications," Romano said.
American Airlines' Tulsa Maintenance & Engineering Center
Established: 1946
Area: 330 acres; 3.3 million square feet of hangar, shop and office space.
Employment: 6,600 aircraft mechanics and related work groups
Hangars: 135,000 square feet each in Hangars 1, 2, 3 and 4; Hangar 5: 215,000 square feet; Hangar 6: 341,000 square feet; 240,000 square feet of shop space between Hangars 1 and 2 and between Hangars 3 and 4; relocatable hangar: 81,400 square feet
Capabilities: airframe repair, overhaul and modification; maintenance and repair of landing gear, wheel, brakes; maintenance of General Electric, Pratt & Whitney and CFm engines; avionics overhauls; composite repairs and parts manufacturing
Estimated 2009 purchases from local vendors and suppliers: $74 million
2009 maintenance budget: $2.2 billion.
Source: Amr Corp., American Airlines
American Airlines' Hangar 80
Size: 81,400 square feet.
Site: 8.5 acres, North Development Area, Tulsa International Airport.
Dimensions: 370 feet long, 220 feet wide, 74.5 feet high; door opening: 190 feet wide, 66 feet high.
Under roof maintenance capabilities: one Boeing 767, one Boeing 737; two 737s; two Boeing 757s; or two Boeing MD-80s.
Work force: 200 mechanics, technicians, cleaners and production supervisors.
General contractor: The Ross Group, 333 W. Fourth St.
Building materials supplier: Rubb Inc., Sanford, Maine.
Owner/lessor: Tulsa Industrial Authority.
Source: AMR Corp., American Airlines; Tulsa Airport Authority.