Architectural/engineering firm Frankfurt-Short-Bruza celebrates milestone
In 1945 the oil industry in Oklahoma was at a crossroads.
Behind were dramatic oil booms, the hard times of the Great Depression, and the sacrifices and shortages of World War II. Ahead was a homegrown generation of oil pioneers who filled in the gaps of exploration and laid the groundwork for technological advances that would revolutionize the domestic industry.
That same year, 70 years ago, an architectural and engineering firm was formed by three young men who saw the potential of a reshaped economy still reliant on oil and gas. Those men were Truett Coston, Wally Frankfurt, and Harold Short, and their firm would evolve into what is now known as FSB, the brand of Frankfurt-Short-Bruza. The history of that one firm, written on the national stage, is interwoven with the evolution of the domestic oil and gas industry in Oklahoma since World War II.
Building on a Firm Foundation
The oil industry in Oklahoma had a firm foundation in 1945. There was steady if declining production in giant fields with legendary names in the oil industry—Glenpool, Greater Osage, Cushing, Three Sands, Healdton, Seminole, and Oklahoma City. Tulsa was still the "Oil Capital of the World," and there were hundreds of companies and thousands of employees exploring, drilling, completing, producing, refining, and transporting oil and natural gas.
In the late 1940s FSB architects and engineers worked shoulder-to-shoulder with some of the pioneers who had survived the hard times.
One was Oklahoma Natural Gas Company, organized in 1905 to build a pipeline and deliver natural gas from the Glenn Pool field to power plants in Oklahoma City. Another repeat client was Halliburton Oil Well Cementing Company, which would complete the world's first high pressure hydraulic fracturing job in Stevens County in 1947.
FSB quickly earned a reputation for updating older buildings that would make oil companies more efficient. An early client was Anderson-Prichard Oil, which was successful enough by 1950 to purchase the 30-story Ramsey Building in downtown Oklahoma City. The renamed landmark became the APCO Tower. An even bigger client just emerging on the international scene was Kerr-McGee, which traced its history to 1939 and the partnership of future governor and U. S. Senator Robert S. Kerr and petroleum geologist Dean McGee.
In the 1950s Kerr-McGee successfully completed the transformation from a domestic contract driller to a vertical giant in the energy industry with off-shore drilling, refineries, retail service stations, chemicals, and nuclear power. Needing office space to match this diversified empire, Dean McGee hired FSB to remodel a building in downtown Oklahoma City for his worldwide corporate headquarters. The KerrMac Building remodel was completed in 1961. Ten years later the continued success of Kerr-McGee provided another opportunity for FSB to make an even bigger splash. This time it was the Kerr-McGee Tower, a 30-story structure that would win awards for its modernist design and become a landmark on the Oklahoma City skyline. Through the years, FSB would complete 16 projects for Kerr-McGee.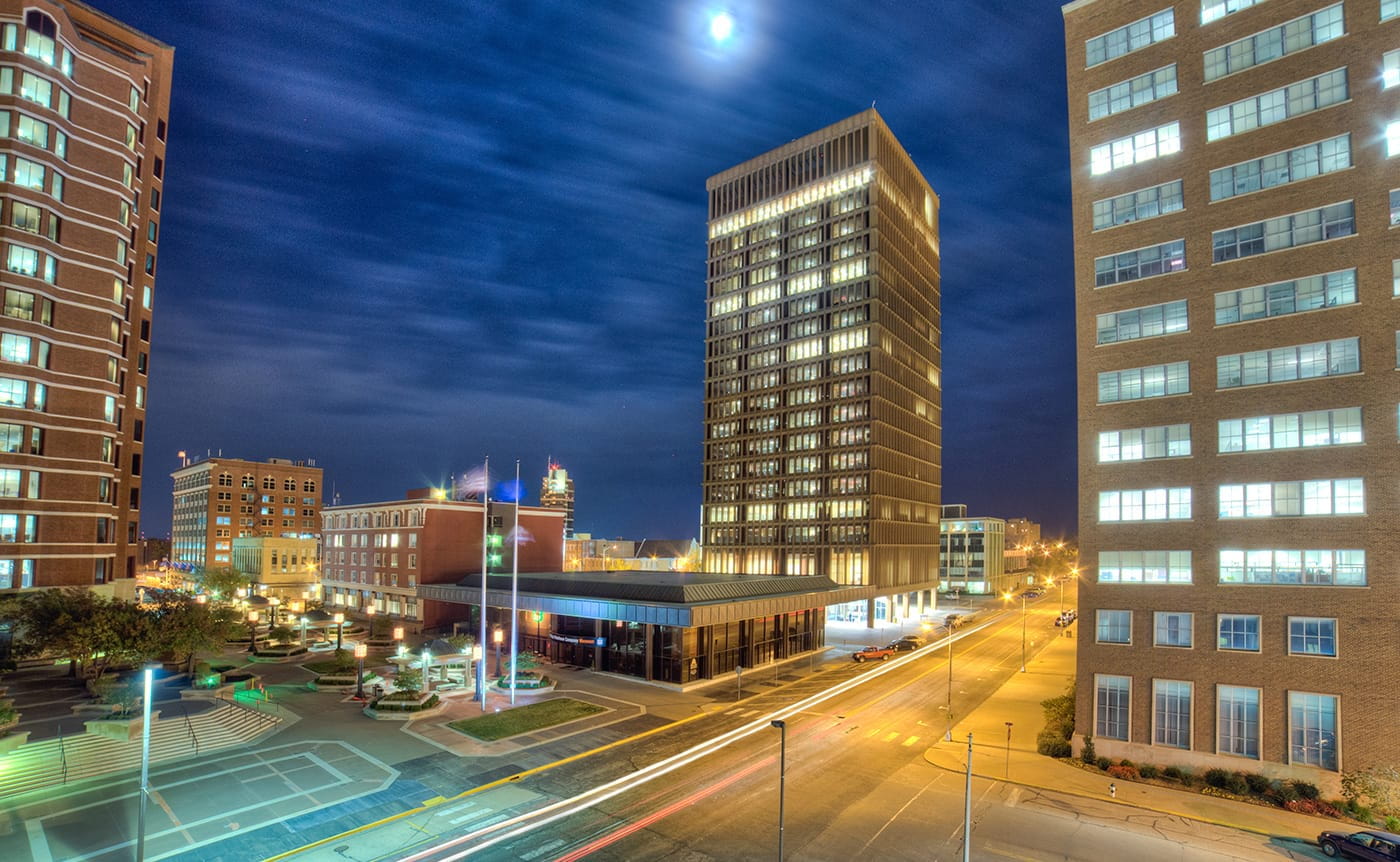 Another repeat client with 27 projects completed from the 1960s to the present day is Conoco-Phillips. Both parts of the hyphenated company had deep roots in the oil patch before their merger. Conoco's history began in 1921 when E. W. Marland found oil in the Three Sands Field, while Phillips Petroleum was launched in 1917 by Frank and L. E. Phillips from their bank in Bartlesville. Both had started with exploration and drilling and expanded to vertical operations with refineries, service stations, and extensive research facilities.
In 1976, before the merger, Conoco hired FSB to design a new corporate office complex in Ponca City. They started with a master plan and the first eight-story tower with 497,000 square feet of space built at a cost of $34 million. Subsequent projects for Conoco-Phillips included another eight-story tower in Ponca City and buildings on both campuses for research and development, refining, pipeline control, fire control, and a museum.
As both an architectural and engineering firm, FSB was well prepared when one its repeat clients in the energy industry needed an unconventional building to convert carbon-based polypropylene plastic into thin continuous rolls of a white opaque film used to package food products. The client was Mobil Oil and the location of the plant was in Shawnee. From 1976 to 2015, FSB completed 16 projects for ExxonMobil.
Whereas Mobil, Conoco, Phillips, and Kerr-McGee were mature companies relying on FSB to adapt to modern demands, a new generation of energy companies was rising out of the oil and gas patch needing space and facilities to take on the majors. Emerging from the ashes of the natural gas meltdown of the 1980s came homegrown companies with appetites for taking on bold projects.
Devon, founded by John and Larry Nichols in the 1970s, grew through international projects and aggressive acquisitions while leading the industry in unconventional shale play. With a growing reliance on high technology and instant information, Devon hired FSB to design a data center that could withstand an EF-5 tornado with redundant back-up systems for power and cooling. That was followed by the design of a records storage building and a number of field facilities.
Like Devon, Chesapeake and Continental Resources emerged from the 1980s with grand ambitions. Aubrey McClendon and Tom Ward joined forces in 1989 and built an empire based on aggressive mineral acquisition and unconventional shale play searching for natural gas. Harold Hamm did it the old fashioned way, concentrating on oil and the use of horizontal drilling and high pressure hydraulic fracturing. FSB would design a number of field office, corporate office, and technology facilities for both companies as well as for RKI Exploration, Marathon Petroleum Corporation, Enable Midstream, and Access Midstream.
FSB's biggest challenge for this new generation of independents was the SandRidge Energy Commons, launched in 2010 with a major renovation of the Kerr-McGee Tower and the incorporation of adjacent buildings and plaza into a highly refined urban complex. With a projected budget exceeding $200 million, the architects and engineers at FSB spent years working with Rogers Architects in New York City on an "exterior interior" plaza, tower renovations, re-tasking of the Braniff Building, and the design of the Parkside Building.
Today, despite low prices, the outlook for the oil and gas industry in Oklahoma is bright. Oklahoma's economy will continue to be driven by energy and FSB will be there to provide the buildings and support facilities needed to move forward. That legacy of working together, now 70 years old, will continue to grow.