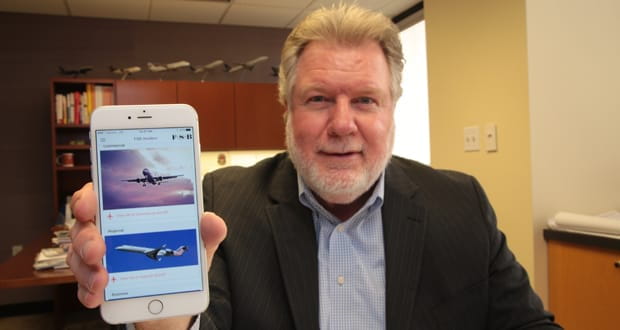 OKLAHOMA CITY – Questions like, "What's the wingspan of a Boeing KC-135 Stratotanker?" and "How tall is the McDonnell-Douglas KC-10?" may sound like bar trivia.
They are actually queries that architect Philip McNayr and his aviation team at Frankfurt-Short-Bruza architecture firm have to frequently answer when designing hangars and other aviation-related facilities.
"We always need to understand the aircraft, whether big or small," he said.
To save design time, McNayr worked with Kyle Neuenschwander on an app that had a variety of dimensions, making it easy to find the data as needed.
Work on the project started about 16 months ago, McNayr said. The app, FSB Aviation, came out in spring 2015, and had some revisions before it made its premiere at the Paris Air Show in June. It is available for Apple and Android devices.
"All the information we're putting in our app is public-domain information," he said. "We collected the information ourselves from many, many sources."
McNayr took the information to Neuenschwander, who organized it. He said McNayr wanted to be able to get the data quickly and easily. Neuenschwander created a menu with commercial, regional, business and military aircraft tabs. From there, users can find pictures of each plane and its dimensions, in metric and imperial units. There are also examples of hangars that FSB designed.
Neuenschwander said it took a few weeks for the first prototype. The app has information on more than 200 aircraft. There are 12 planes that have extended data, such as utility connections and different side views.
But this isn't the stopping point for the app, McNayr said. He plans to add more aircraft in all categories, expand the technical information, increase the quantity of three-view drawings, and create a category for military unmanned aerial vehicles.
He said the app has been downloaded about 200 times, including people from overseas who learned about FSB Aviation at the Paris show. FSB clients United Air Lines and American Airlines are using the app as well, McNayr said.
He's even had someone correct information on the app. A user from overseas called and said some data was wrong. McNayr double checked it, then fixed it.
"It's a one-point resource to have all these dimensions in one place," he said. "We figured it would be a good resource for others as well."