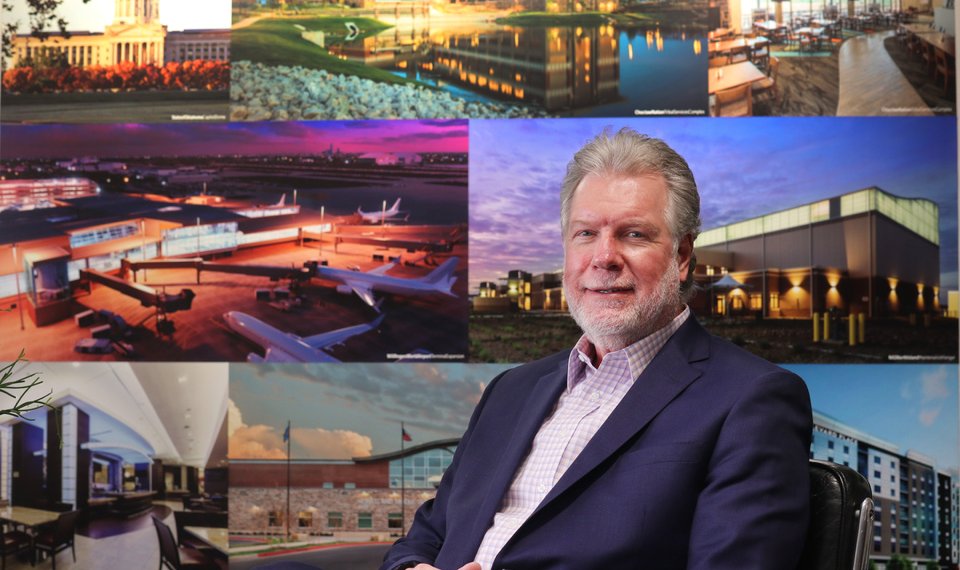 To veteran Oklahoma City architect Philip McNayr, it seems like it was just yesterday that he was drawing design plans in the good ol' Engineering North building at Oklahoma State University.
McNayr said he's "blown away" by OSU's new College of Engineering, Architecture and Technology facility, which Oklahoma City-based FSB architectural-engineering company designed and built. Completed in 2018, the building boasts 17 undergraduate research labs and no ceilings, so that students can see the guts of the building and its various systems.
McNayr finds it phenomenal FSB will mark 75 years this year and he, effective Jan. 27, is company president. There's a late-March celebration planned for employees and an April 2 open house for clients.
From FSB's fifth-floor offices at 5801 Broadway Extension, McNayr, 66, sat down with The Oklahoman on Monday to talk about his life and career, including his 43 years with the company. This is an edited transcript:
You say your architectural focus on aviation was influenced by your childhood. How so?
My father, who worked as a self-employed insurance adjuster in Lawton, would take us kids (I'm the youngest of three) to the airport to watch the planes land and take off, and give my mother, who was a stay-at-home mom, a break. My dad rented and flew private planes as a hobby, and liftoffs on our flights together always brought a smile to my face. As a boy, I aspired to be a commercial pilot and mowed lawns to pay for flying lessons I took. But I, mistakenly, came to believe that I couldn't be a pilot because I wore glasses, and quickly got dissuaded anyway when I turned 16 and earned my driver's license. My first car was a 1953 Ford pickup. I owned my own landscaping business in high school and needed a truck to haul tools, white rock and more.
Based on your family stories, your passion for architecture and engineering seems to run in your blood.
Yes. My mom told me I drew floor plans when I was 5, and that she saw a light bulb go off in my head when I learned to add windows and doors between rooms. My paternal grandfather, who died before I was born, was a civil engineer, whose work includes the American Church in Paris, which I've visited; a university library in Leuven, Belgium; and a GM assembly plant in Sao Paulo, Brazil, where I coincidentally designed and built a hangar years later. My dad's mother, who was 100% French, lived north of Boston and we'd visit her every few years when I was growing up. My father graduated from Harvard and joined the Army, which is what brought him to Lawton, where he served four years, was never deployed, and met my mom on a blind date. Her parents lived in Lawton, where my grandfather owned a furniture store, oil and gas interests, and shopping centers.
And college?
My freshman year, I — following my parents' wishes — attended Abilene Christian University, from which my older sister and older brother graduated. But, because I was pursuing a degree in architecture, I needed to attend a school with a strong school of architecture. My sophomore year, I lived at home and attended Cameron University in Lawton, where my girlfriend, Nancy, was going. We married that summer and transferred together to Stillwater. My dad bought us a mobile home behind Red's Deli on Main Street that we, after five years, sold for what he paid for it. Architecture school was tough. But, Nancy and I still managed to have a lot of fun, attending football games and wrestling matches.
What led you to join FSB?
I interned here the summer between my fifth and sixth years of college. I built a 3-foot-by-3-foot, three-dimensional model of the Hertz research center at 23rd and Penn for Jim Bruza, using chipboard and Elmer's Glue. Of course, our industry evolved to using computer-aided design and, as of last month, FSB is printing our own 3D plastic models. After college, I joined FSB as a designer and stayed, except for a seven-month stint when I followed an itch and joined a former colleague who went out on his own. I quickly missed the travel and the kinds of unusual one-off projects I got to work on at FSB. When I came back to the company, I learned to put together buildings and ultimately became a project manager.
What are your proudest personal contributions to FSB projects?
Along with leading the design of transformational projects for airlines and military clients worldwide, I've had the opportunity to lead many projects in the metro, including the OSBI Forensic Science Center (2008) off Second Street in Edmond as well as UCO's Forensic Science Institute across the street, which is the educational side of the business. The design of the former was technically challenging with a high level of understanding of, and accounting for, the chain of command of evidence that had to move through the building. People's lives depend on the testing they do there. A fun project was building Edmond's new police department/Public Safety Center in 2015. The least fun projects are for government and other clients who lack the funds to do what they want to do, but we build to our clients' budgets. We mainly work on large projects that can take two years to two-and-a-half years to build. The average cost of a 100,000- to 200,000-square-foot building is about $50 million. Among other projects, FSB currently is working on the expansion of the Will Rogers World Airport Terminal and the State Capitol renovation. We designed and built the dome in 2002.
In your short time as FSB president, what initiatives have you undertaken?
I plan to meet one-on-one with every employee to get to know their hobbies and what they like most and least about the company. I started with the people whom I didn't know well, and so far have met with 14, who've offered great ideas for refining what we do. I also plan to ask CEOs of area companies what they wish someone had told them when they became president. I live and lead by the Golden Rule "Treat people the way you want to be treated." I don't yell and scream at people because I don't like it when people yell and scream at me. I'm open, honest and myself, which is what I ask of others.