Envisioning and Designing the Expansion of Oklahoma City's Will Rogers World Airport
When the Oklahoma City Airport Trust posted a request for proposals in 2014 to find the architects to lead their expansion of Will Rogers World Airport, one of the firms competing for the project had experience with Oklahoma City's main commercial airport already under its belt. FSB, an architecture and engineering firm based in Oklahoma City, had served as the airport's "on-call" architect since 2000, Chief Operations Officer Rick Johnson said.
"We have been privileged to serve as an extension of the Airport facilities staff for nearly 15 years, and as such have developed an in-depth familiarity with the facility," Johnson said. "Commercial airports like Will Rogers World Airport have so many different buildings that they have a continual need for architects and engineers to work on projects like roofing updates, boiler replacements, emergency generators, interior remodels, parking expansions… it's part of running a campus that big."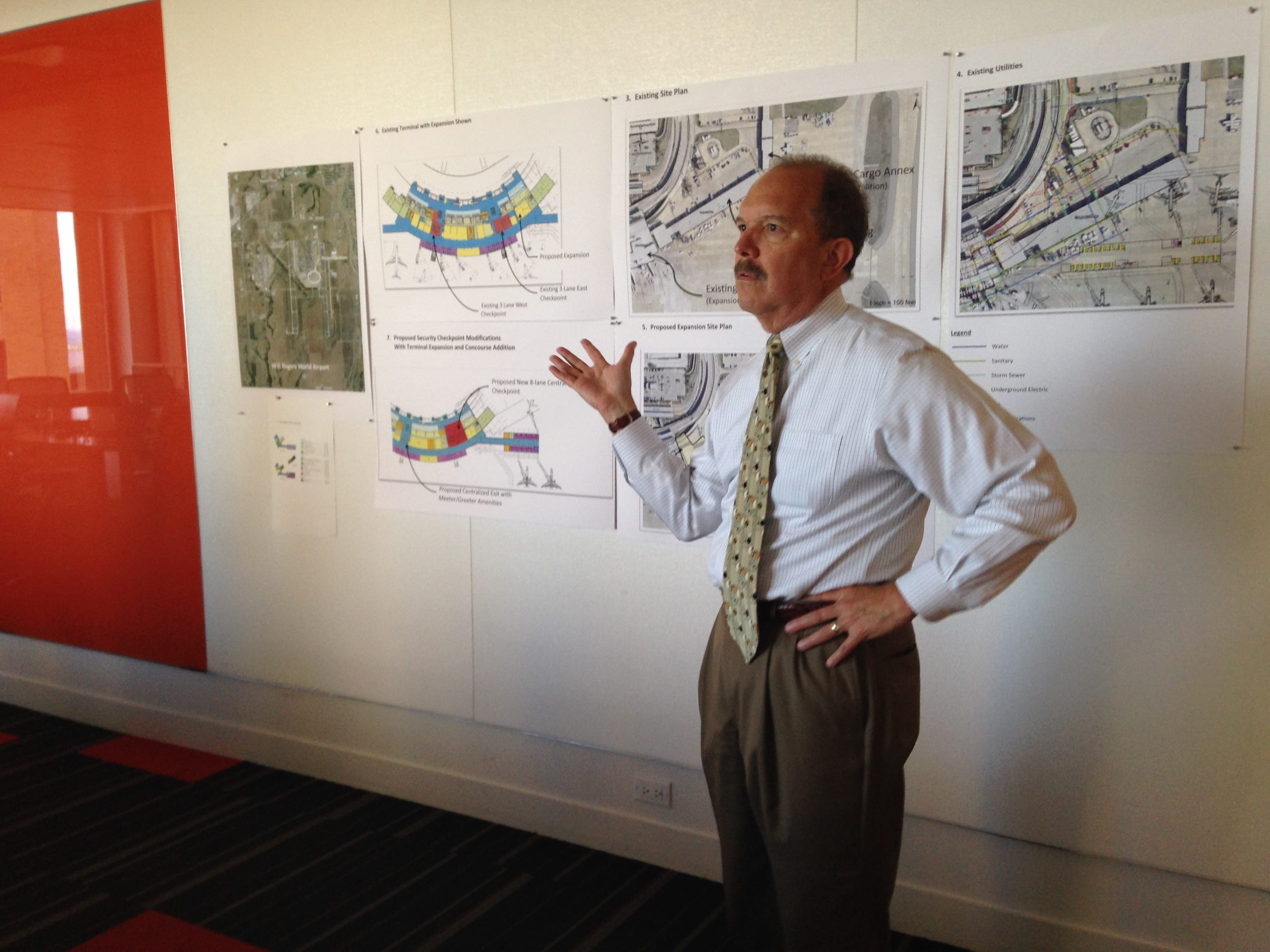 In addition to regular repairs, reconfigurations and minor remodels, the City of Oklahoma City recognized that the facility would require more significant updates. Oklahoma City's growth is reflected in the increased airport traffic. With projections of continued steady growth, the City identified that the need for additional gate capacity is imminent.
The Airport Trust's request for proposals outlined Will Rogers' challenges: the airport would need to be expanded to accommodate the growth in passenger service, and updated to better accommodate the needs of passengers. Johnson said when FSB and strategic design partner HOK came to the table to compete for the project, the airport was impressed to learn that their local on-call architecture and engineering firm had managed and completed much larger projects in other areas of the country and the world.
"The City may not have realized the extent of what we do beyond Oklahoma City," Johnson said. The combination of local expertise, global scope, and the perfect team of partners and consultants they assembled for the project ultimately made FSB the right choice for the airport expansion design.
Once selected, FSB began an in-depth process of workshops and stakeholder meetings with airport administration and major airport user groups, including airline representatives, police, Transportation Security Administration (TSA), and City leadership, to understand the needs of each group and target the best ways to bring Will Rogers into modernity and prepare the facility for future growth.
The team designed an open, central space to replace the two promenades that currently function as security checkpoints. The stories-high atrium, identifiable from outside the building when completed, will encourage a natural flow of passengers through the airport's sole security checkpoint. The columnless space will allow flexibility with changing security equipment and protocols when the construction is complete, which FSB Senior Project Manager Mark Timbrook said is scheduled for 2018.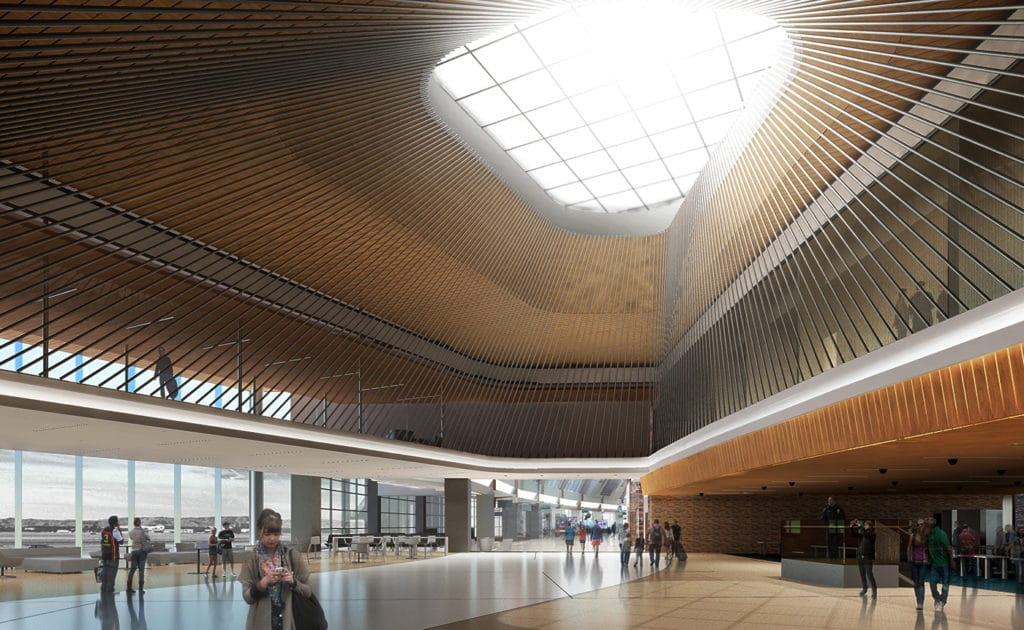 The design also provides individual airlines with increased flexibility to better accommodate online flight reservation systems and automated flight check-ins. "Automated flight check-in areas and other new technologies are largely industry-driven, and not airport-driven," Timbrook said. "Many people don't think about it this way, but the airport is actually the landlord, and the airlines are its tenants. You are not checking into the airport, you are checking into the airline. As reservation technologies change, airlines need their spaces to be as flexible as possible in order to support future equipment updates."
Customer experience is paramount
The expansion provides an opportunity to tailor the design to improving the experience for passengers. Past the security checkpoint, an open, light-filled, town center-style space with modern dining, shopping and seating areas will greet travelers.
"This will be an iconic space when all is said and done," Timbrook said. "Eventually when you see advertisements for the airport, you're probably going to see pictures of the town center. Customer convenience has become increasingly important to airports and airlines — it's a factor for business. The airport is a gateway, the first thing most people see when they arrive in a city, and leadership wants it to live up to all of the advancements our city is experiencing in other areas and industries."
Because no flights connect in Oklahoma City, a high percentage of airport patrons are using the space to either bid farewell to or reunite with family and friends. Appropriately for a city nicknamed "The Big Friendly", sight lines will be improved beyond security areas and exterior lobby spaces will be configured specifically for meeting and greeting.
A long-anticipated public observation gallery above the main town center area of the terminal will allow those without a plane ticket to see aircraft and watch their family member or friend pass through security. The airport once had an observation tower, and Johnson said the City was interested in incorporating this lost amenity into the project.
"Our design team was able to accommodate the security needs of a modern airport while also providing a unique opportunity for public visibility of aircraft activity on the ramp," Johnson said. "Even though you can't walk her there anymore, families will be able to see grandma make it to her gate."
The Military Welcome Center, previously located in a separate building, will be given a high-visibility central location near the main concourse in the new design to increase accessibility and convenience for military passengers. The welcome center will provide refreshments, internet access, long distance phone service, television and other amenities for the high volume of military men and women who regularly travel through Oklahoma City's airport.
Timbrook said the final design will go far beyond checking the boxes of adding four additional gates, streamlining security and improving dining and retail. The expansion modernizes the airport in a fashion true to the city it serves — focused on people, supportive of economic development and poised for future growth — all in an open, contemporary aesthetic that complements and enhances the original design.
Local expertise, global scope
For its expansion, Will Rogers World Airport needed a firm with the scope and technical expertise to manage a major, multifaceted design project. It also needed accessible, thoughtful architects who could understand Oklahoma City's unique character and reflect it through the final design. In FSB, they found this combination, and when the expansion is complete, Oklahoma City residents will use and welcome their visitors to an airport every bit as accessible and modern as their hometown.
Rick Johnson, AIA, LEED AP BD+C is Principal and Chief Operating Officer for FSB. Rick can be reached for comment at fsbcoo@fsb-ae.com or directly by calling 405.840-2931
Mark Timbrook, AIA, LEED AP BD+C is a Senior Project Manager and FSB Associate. Mark can be reached at mtimbrook@fsb-ae.com or directly by calling 405.840-2931