EDMOND — The downtown Edmond landscape will change in a big way with the construction of a new public safety center. The architect's drawings of the city's proposed 70,000-square-foot center were released on Wednesday.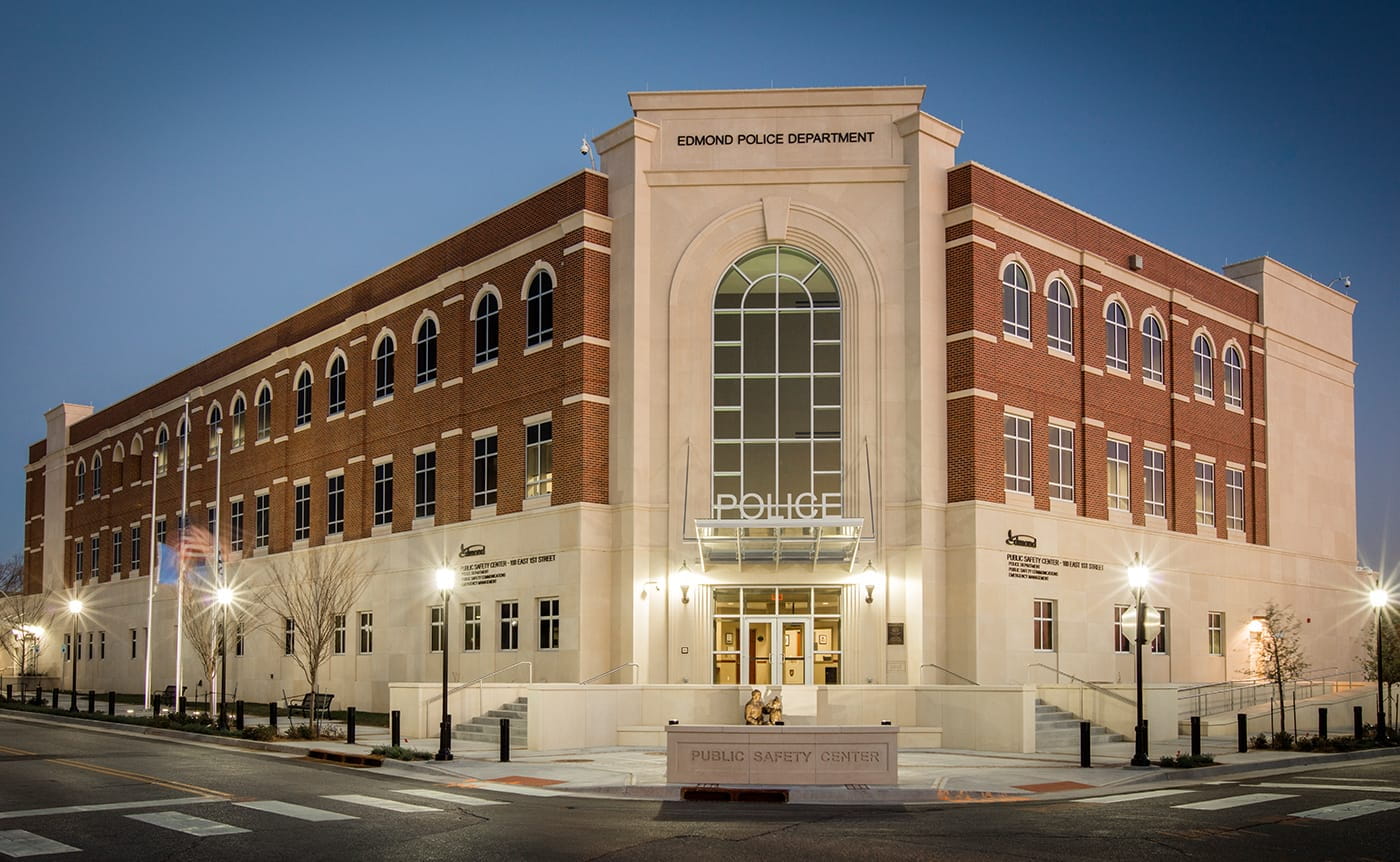 The building to house police headquarters, a 911 communication center and emergency management will be built at the corner of First Street and Littler Avenue. It will include three floors plus a basement where holding cells will be located. The price tag is estimated at $25.65 million. Designers anticipate another $2.84 million for furnishings and equipment, for an estimated cost of $28.84 million. A second 15,000-square-foot building will be constructed on city-owned property just west of 33rd and Broadway. The James H. Harrod Vehicle Maintenance Facility was once on the property. Evidence and vehicle storage along with the crime laboratory will be housed in the second building. Construction cost is estimated to be $3.14 million with another $660,000 for furnishings and equipment.
The estimated cost for both buildings and furnishings and equipment is $32.29 million.
"We have designed a strong facility, but not extravagant," said Philip McNayr, principal architect with Frankfurt Short and Bruza.
Voters on Oct. 11, 2011, approved a half-cent sales tax increase for five years to build the two buildings, which are expected to meet the city's needs for 20 years. The exterior of the public safety center will be brick and stone masonry with arched motifs similar to other downtown buildings, said John Osborne, design engineer for Frankfurt Short and Bruza.
"The function-driven design solution is intended to be a valued contribution to the downtown area and a source of pride for all Edmond citizens," Osborne told members of the Public Safety Senior Steering Committee, which met Wednesday.
Plans are to tear down the administration building at 100 E First St. to make way for the new public safety center. The 70,000-square-foot, three story building will be constructed on a 41,976 square foot lot.
"We are on a restrictive site, but nothing is being compromised," Osborne said.
Architects hope to go out for bids by mid-April and start construction by the first of May. The construction period is estimated at 20 months, with an expected move-in date of January 2015. The jail, to be located in the basement, will include 10 cells for men and five for women. At least two inmates can be housed in each cell. Outside lighting will be available through solar tubes, said Steve Thompson, deputy police chief. The center includes a 2,000-square-foot multipurpose community meeting room in the lobby that is open to the third floor. Plans include space for 35 dispatchers, communication systems specialists and other support staff on the third floor. In the event of a disaster, the dispatchers could move to a designated area in the basement. There will be about 10 parking spaces below grade and about 30 parking spaces at grade. Officers now have little parking space at the police station, which is across the street at 23 E First St.
"It is cool because so much stuff has been designed by our own people," Thompson said.